iORA
Regular price
Rs. 599.00
Sale price
Rs. 540.00
Unit price
per
Sale
Sold out
Share
iORA's Prebiotic Foaming Facewash goes deep into your pores and cleanses your skin from within, using a clever combination of prebiotics and superfood extracts of aloe vera, sea buckthorn, green tea, neem and cucumber, restoring your skin's natural pH level along with boosting your skin's good bacteria. It also helps in preventing skin inflammation, refining complexion, and calming your skin.

The silicone foaming brush is ultra-gentle and suitable for daily use on all skin types as it is designed to gently scrub away all the excessive oil and dirt from your face without hurting the natural skin barriers.
iORA's Foaming Facewash is free from Sulphates, Parabens, Artificial Preservatives & Colours, and Cruelty. Like all iORA's prebiotic products, it is vegan and is made from organic ingredients.
View full details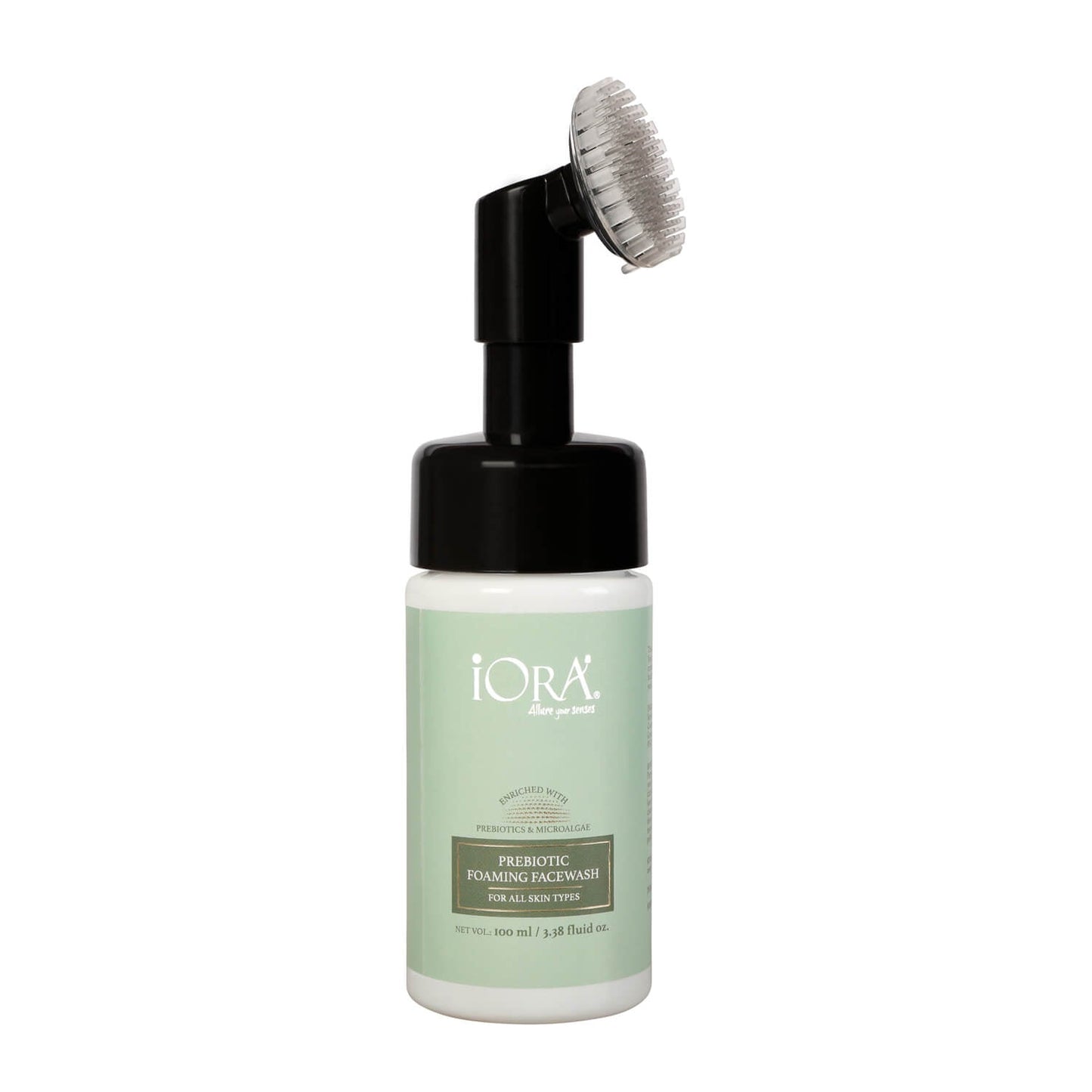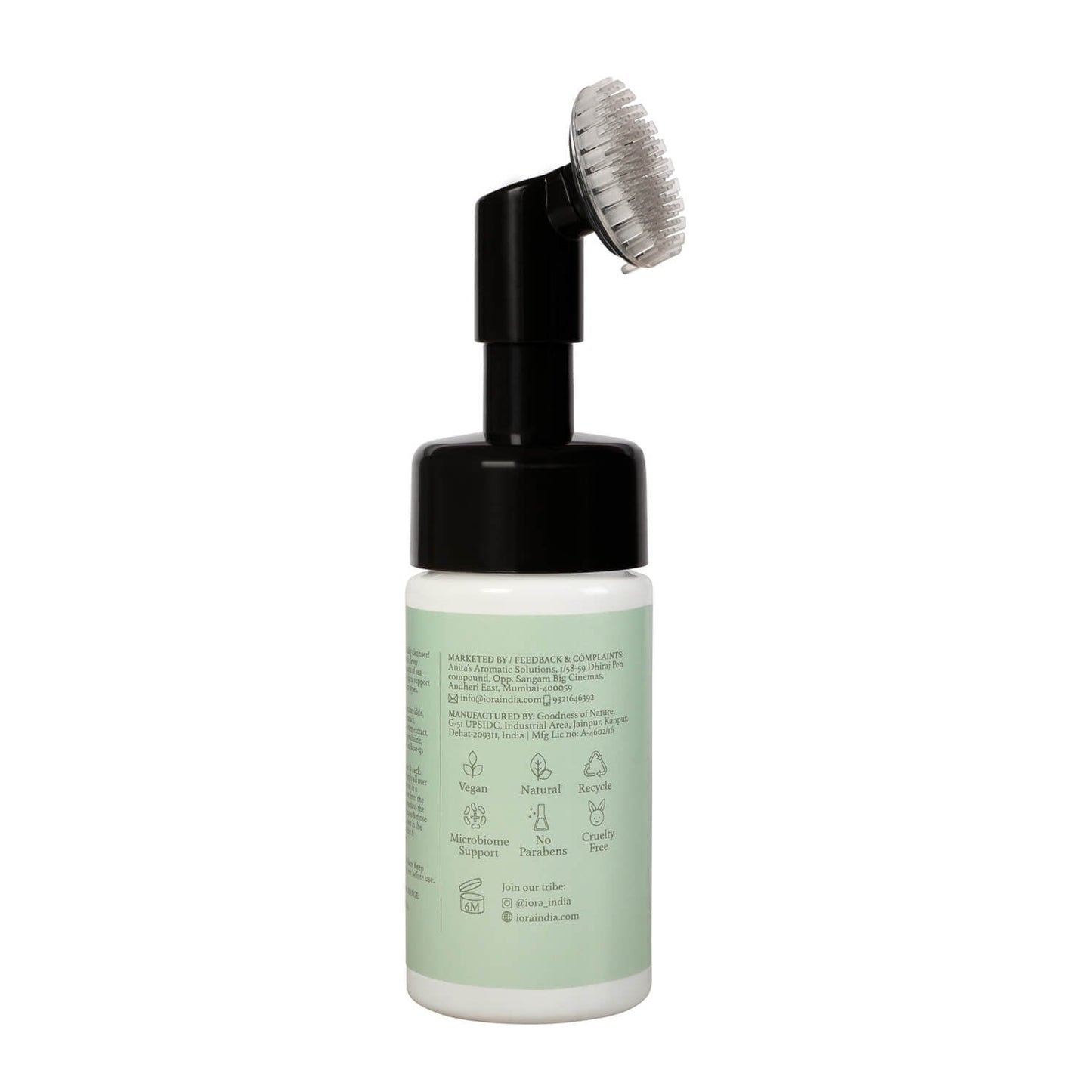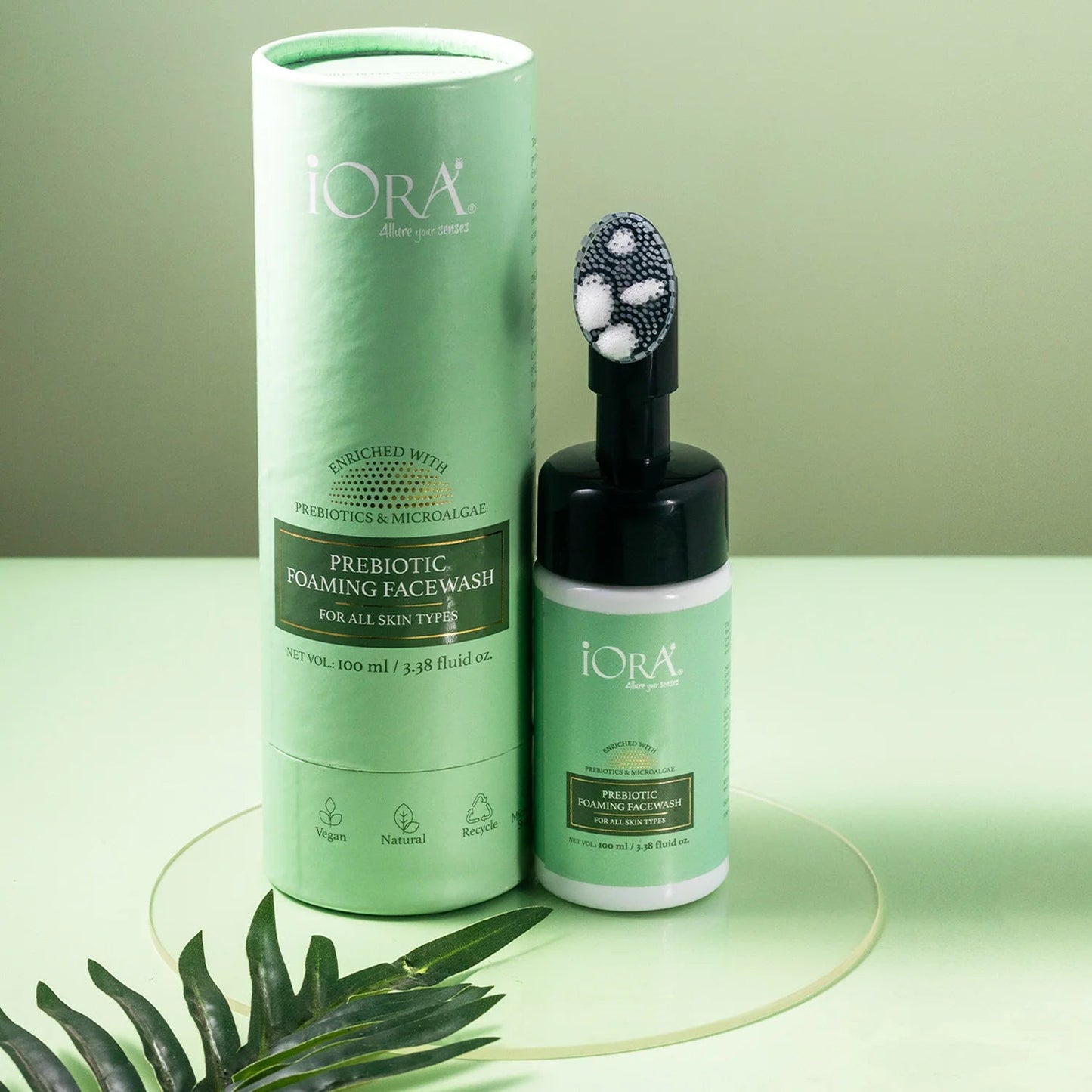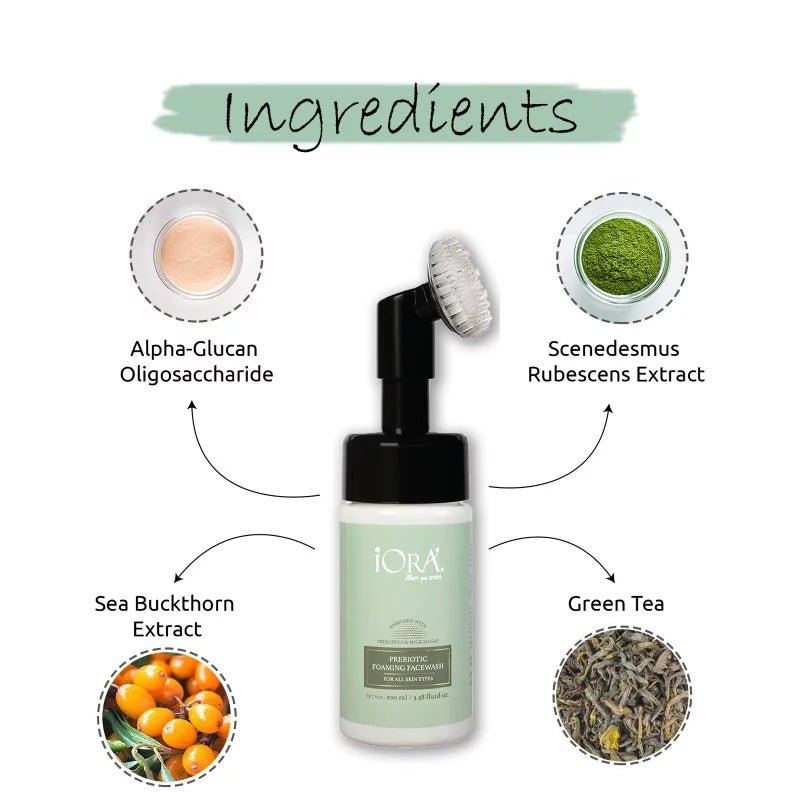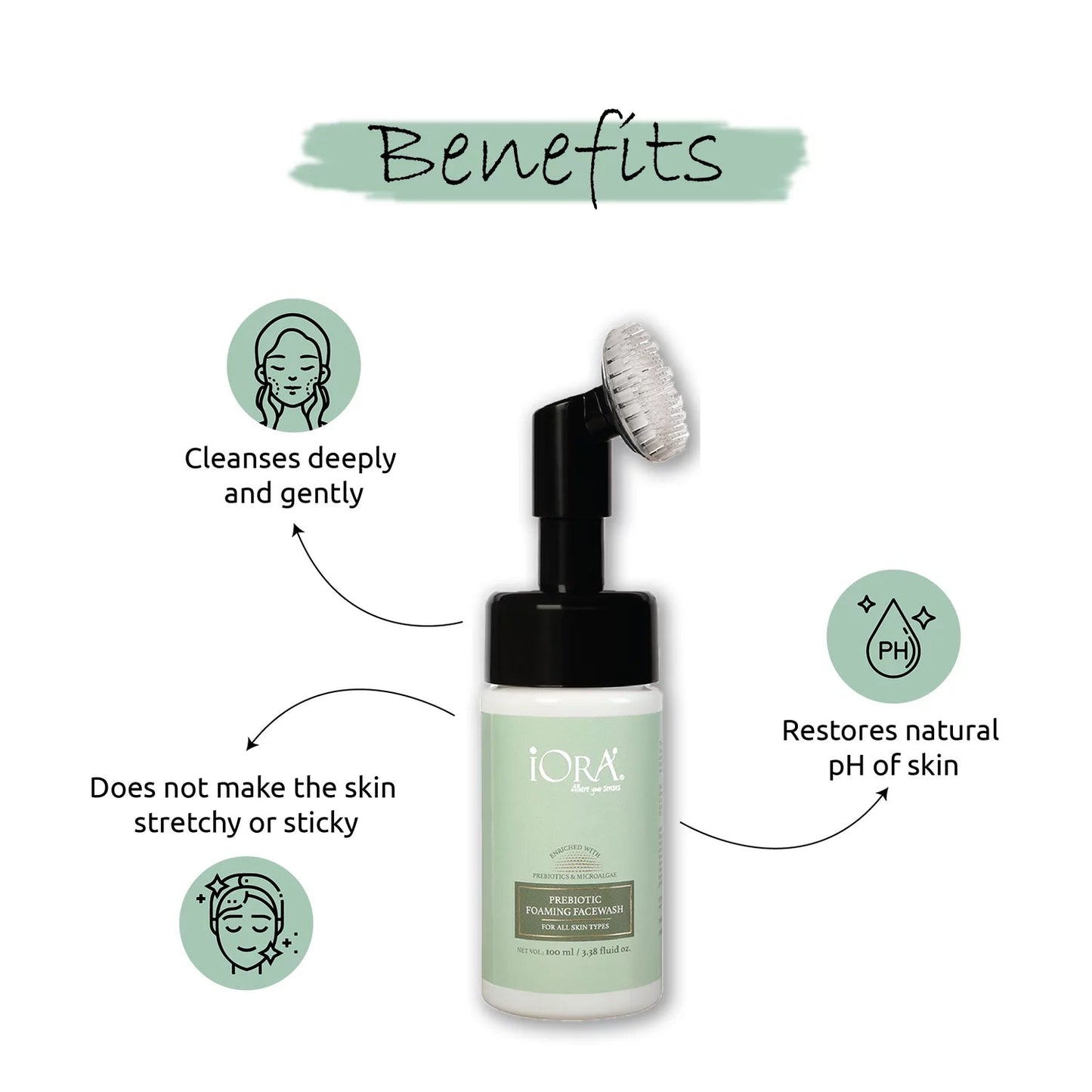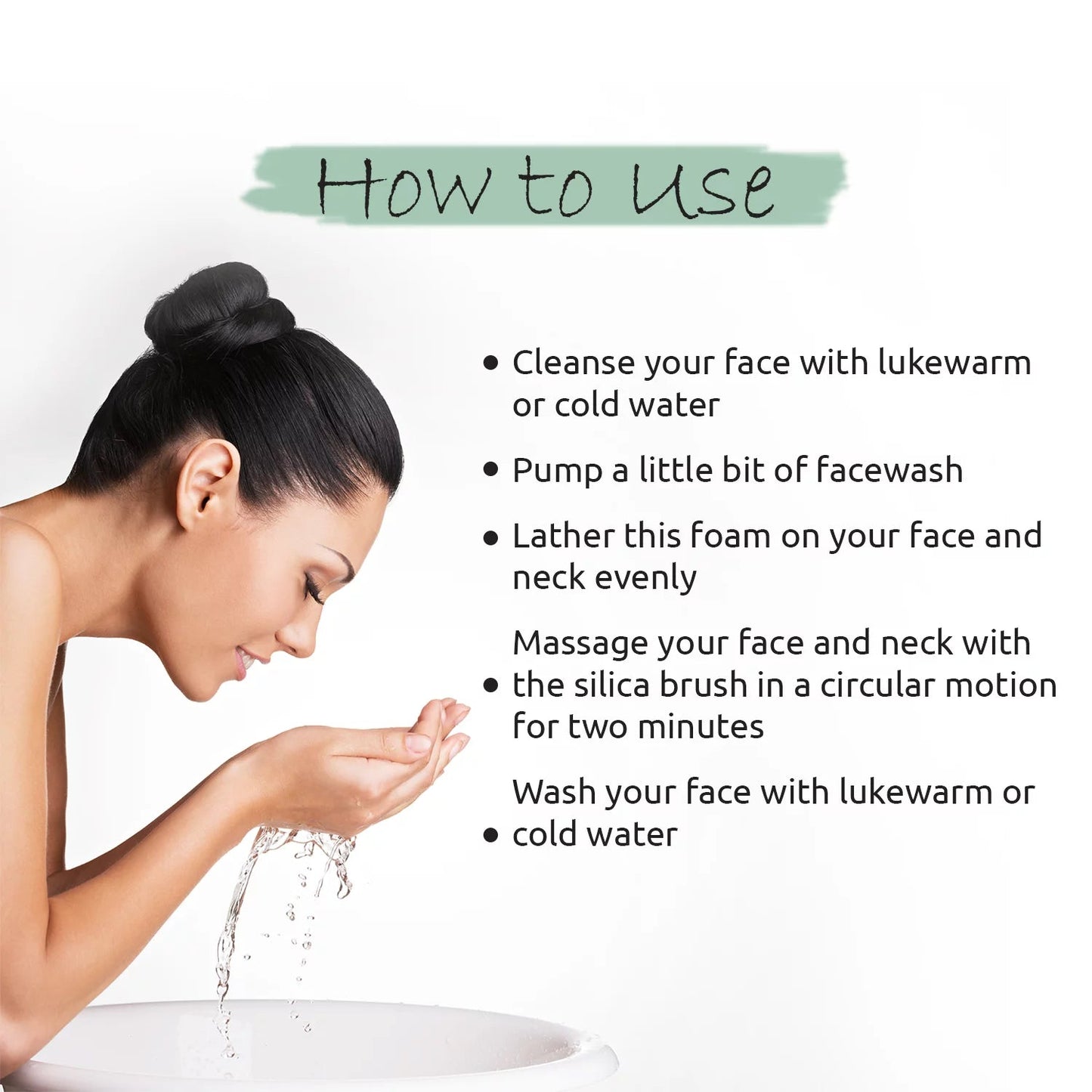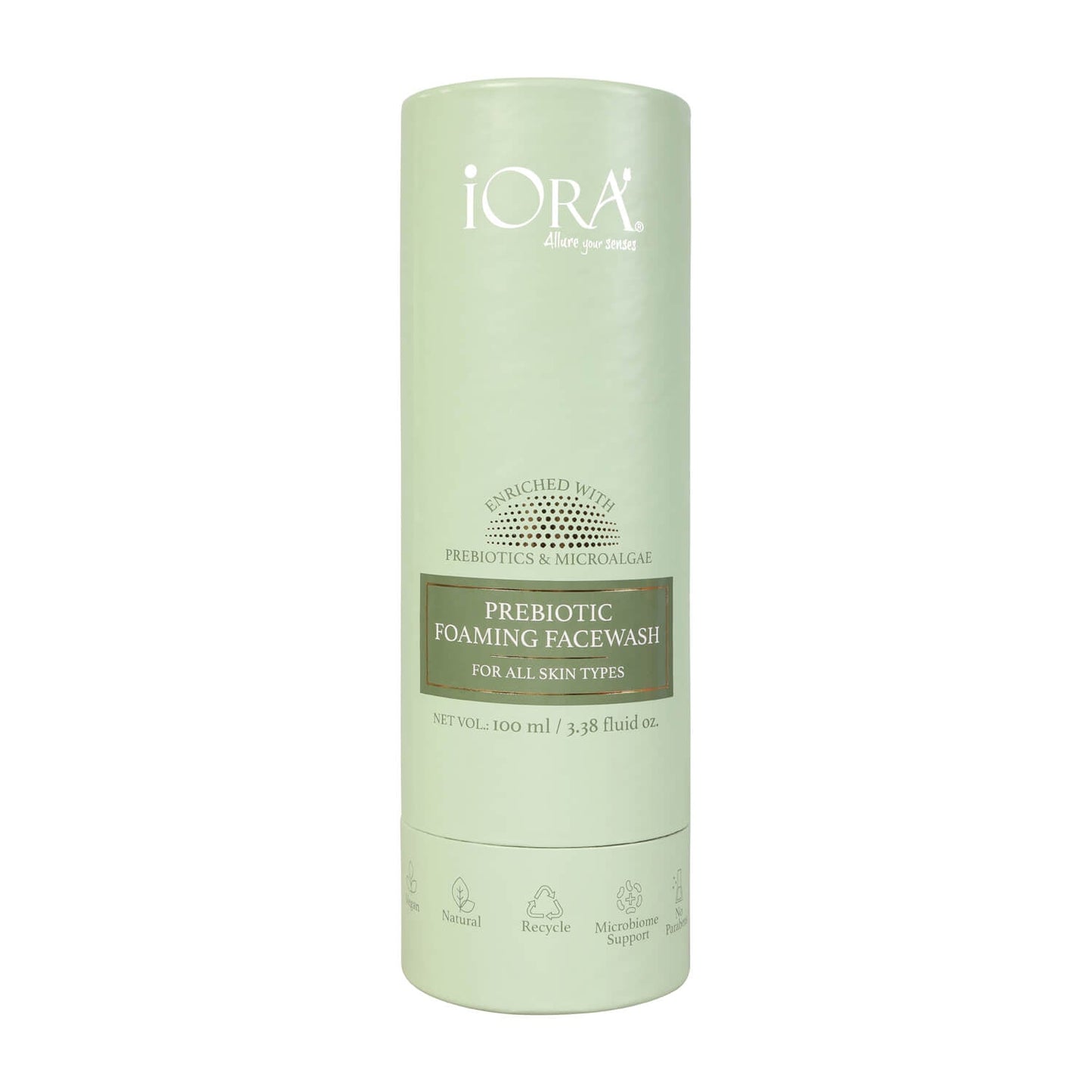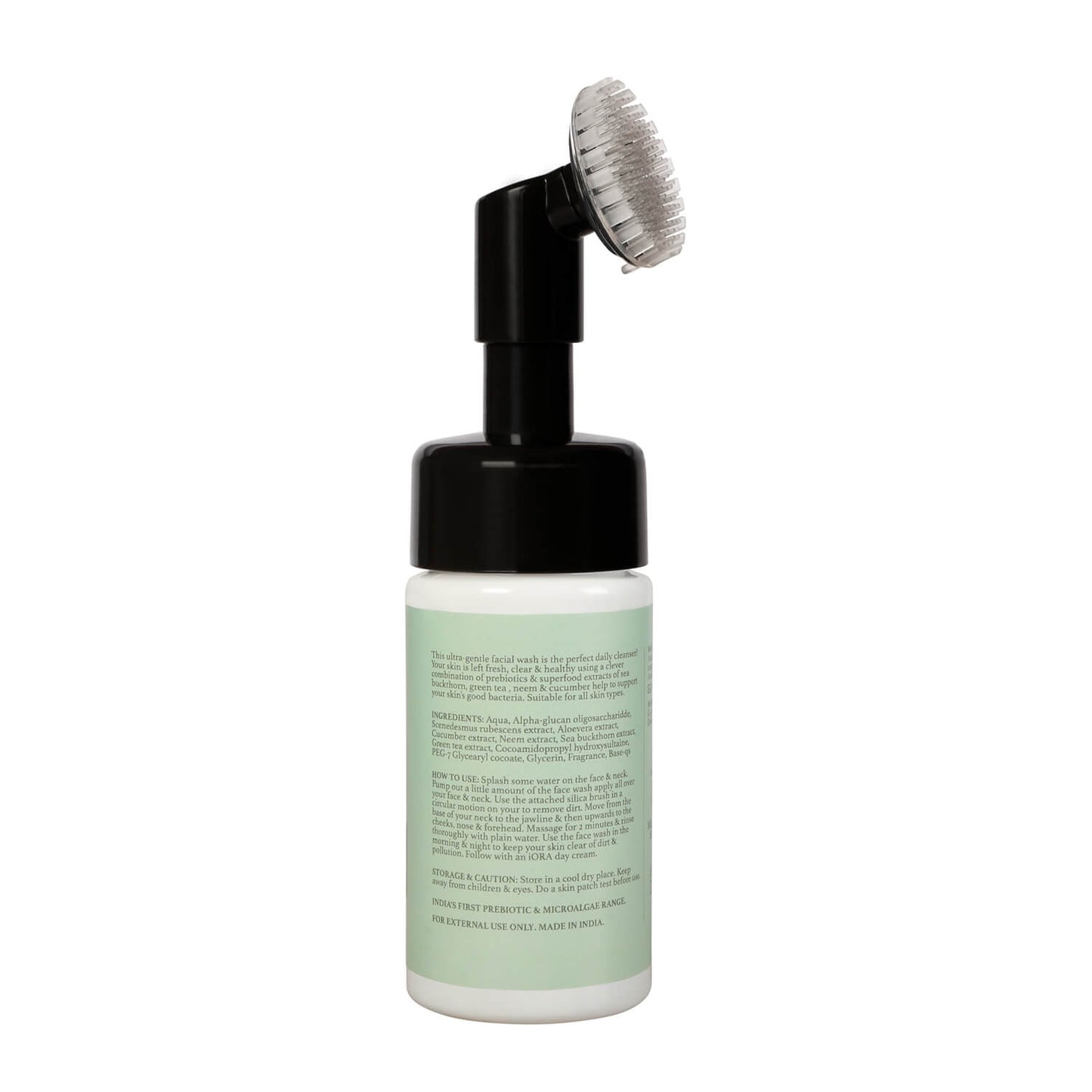 The most effective skincare routine begins with a face wash. iORA's Foaming Face Wash is a gentle, pore-purifying cleanser engineered with nourishing natural extracts and superfoods.
This foaming face with a brush is designed for daily use, gently removing all dirt, grime and impurities from the crevices of your skin. Most importantly, the foaming face wash helps maintain the natural pH balance of your skin without stripping off the natural oils essential to maintaining good skin.
The combination of prebiotic elements and superfood extracts helps unclog pores, reduce skin inflammation, and even out skin tone all while promoting the growth of good bacteria in your skin.
The silicone foaming brush helps you give a relaxing massage to your face but also scrubs away excess oil and grime without breaking the skin's natural barriers. It works wonders for dry skin as well as oily and sensitive skin.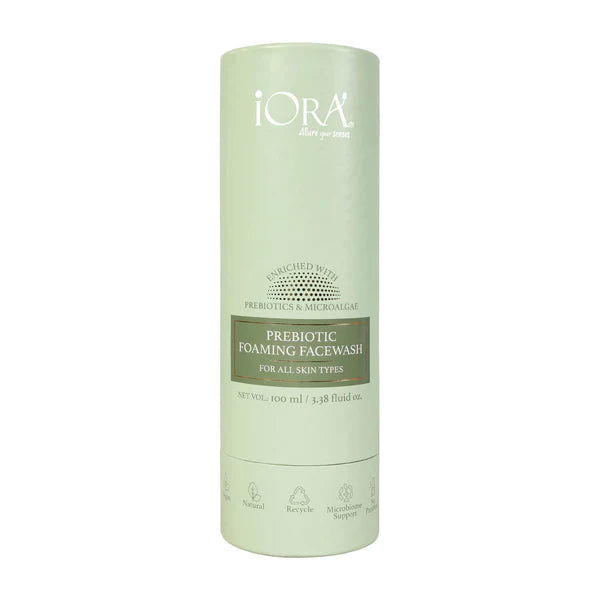 5 Key Product Benefits
Why choose iORA?
Vegan Ingredients

All Natural Products

Supports Microbiome

Paraben Free

Cruelty Free

Recyclable Packaging
We believe that skincare is healthcare. Taking good care of your skin is akin to taking care of your health. It is important to deep dive into the root cause behind the changes your skin might be experiencing.

Acne, excessive dryness, dark spots, dull skin, textured skin, redness, signs of ageing, large visible pores, and fine lines are some of the most common skincare problems faced by women and men. While the reasons are many, the simplest solution is often ignored – good, effective, deep cleansing.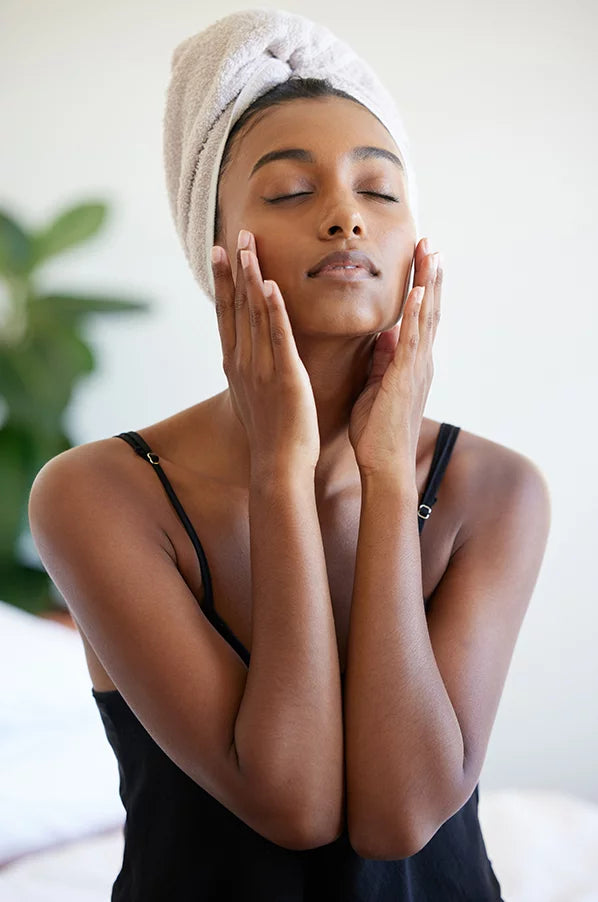 Foaming face wash infused with the goodness of prebiotics!
iORA's foaming face wash penetrates deep into the pores of your skin and the silicone brush helps extract impurities that cause skin problems. All day, we are exposed to environmental stressors that take a toll on our skin and the foaming face wash is designed to fight just that.

While the face wash works to prevent breakouts, delay signs of ageing, and hydrate your skin, it also restricts the growth of bad bacteria and helps good bacteria flourish.

The brush helps lather the foam all over the face so you don't have to excessively scrub the gentle epidermis that can damage your skin.
Ingredients and key benefit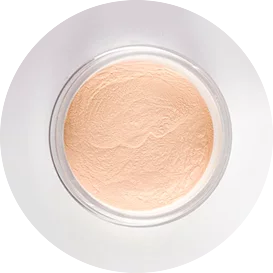 ALPHA-GLUCAN OLIGOSACCHARIDE
This barrier-protecting ingredient is obtained from the synthesis of sucrose and maltose. It stimulates the growth of good bacteria. It prevents excessive drying and flakiness making it the perfect face wash for all skin types.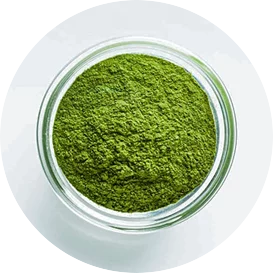 SCENEDESMUS RUBESCENS EXTRACT
Derived from freshwater algae, this ingredient protects the skin from blue light emitted by digital gadgets. These rays are known to cause the early onset of ageing. It strengthens the skin barrier, minimizing free radical damage.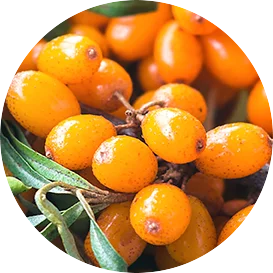 SEA BUCK THORN EXTRACT
An excellent ingredient that controls excess sebum production, sea buckthorn helps prevent inflammation and acne. It is rich in Omega 3 and 6 fatty acids which help in revitalising skin by stimulating collagen growth.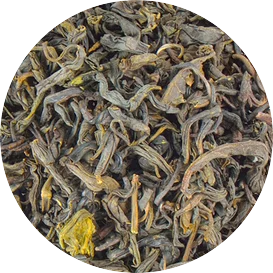 GREEN TEA EXTRACT
Green tea extract protects the skin barrier by unclogging pores while also restoring the skin's natural moisture. It's rich antioxidant properties soothe the skin and prevent fine lines, wrinkles, and skin.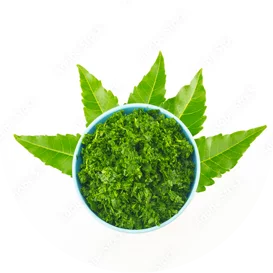 NEEM EXTRACT
This superfood is used in conjunction with the prebiotics that create a healthy ecosystem foryour skin, making it perfect for acne-prone skin. Neem has the power to minimize skin inflammation, fade scarring from acne and pimples, and tackle signs of ageing.
How many times should you use the foaming face wash?
We would recommend using it twice a day. In your morning skincare routine and at night before you go to bed. Ensure all your makeup has been wiped clean before thoroughly cleansing.
Manufacturer Information
EAN Code: 8906127050701
USP: 9.00 per gm
Manufactured By: Anita's aromatic solutions​
Generic name: Cream
Use before: 2 years
Marketed by: Anita's Aromatic Solutions, 1/58-59 Dhiraj Pen Compound, Opp. Sangam Big Cinemas, Andheri East, Mumbai – 400059
For Feedback/Complaints: Please write to Consumer Advisor at Anita's Aromatic Solutions, 1/58-59 Dhiraj Pen Compound, Opp. Sangam Big Cinemas, Andheri East, Mumbai – 400059
Customer Care: Phone: 8591965516 | Email: feedback@anitasaromatics.com
Country of origin: India
FAQ's
Is the Foaming Face Wash good for dry skin?
Yes! The foaming face wash has been engineered with prebiotics and hydration-boosting ingredients that deep cleanse but do not dry out the skin. The face wash maintains the natural pH levels of the skin, helping good bacteria flourish.
Is the Foaming Face Wash good for oily skin?
If you are looking for a gentle face wash that helps control the excess sebum production, the iORA foaming face wash is the answer. The superfoods and prebiotic ingredients help combat excess oil production. The silicone brush deeply cleanses pores to remove excess oil, dirt and grime that clogs pores in oily skin.
Is the Foaming Face Wash good for combination skin?
The Iora foaming face wash is perfect for combination skin. The scientific mix of superfoods and prebiotics effectively washes our excess oil and prevents drying and flakiness, giving you a refreshed look and feel.
What are the benefits of using a foaming face wash?
The foaming face wash is a gentle, hydrating cleanser that comes with a silica brush for effective cleansing. The power-packed prebiotic ingredients stimulate a microbiome-friendly ecosystem for good bacteria to flourish and restrict toxic bacteria. In addition to smooth, supple and deeply cleansed skin, the foaming face wash helps fight acne, delays the onset of ageing and gives you a natural glow.
Is a foaming face wash good for acne?
Foaming wash is actually great for acne. The cleansing capability of a foaming face wash helps deep cleanse the pores. Clogged pores are often responsible for acne breakouts and consequence scarring. Prebiotics and superfood ingredients like neem extract and sea buckthorn extract prevent acne breakouts.
What is the difference between a foaming face wash and a gel face wash?
Foaming face wash has a foam-like appearance and whereas gel face washes tend to be thicker and more translucent. While different products have different ingredient portfolios, the basic difference is that foaming cleansers are able to penetrate much deeper to thoroughly cleanse pores and wash out excess dirt, grime, and oil. Gel cleansers tend to be milder but it also depends on the brand-wise ingredient mix. iORA's foaming face wash has been crafted in a way that it not only cleanses deeply but also maintains the moisture in the skin.