iORA
Regular price
Rs. 499.00
Sale price
Rs. 449.00
Unit price
per
Sale
Sold out
Share
Go permanently sleeveless with iORA's Prebiotic Underarm serum. This unique serum contains licorice & brown sugar extract that lightens, repairs and hydrates your underarm skin.
With the power of helpful antioxidants and amino acids, your skin will feel moisturised and super soft to touch. The Eco-certified prebiotic extract encourages friendly bacteria thus also reducing body odour.

iORA's Prebiotic Underarm Serum is free from Sulphates, Parabens, Artificial Preservatives & Colours, and Cruelty. Like all iORA's prebiotic products, it is vegan and is made from organic ingredients.
View full details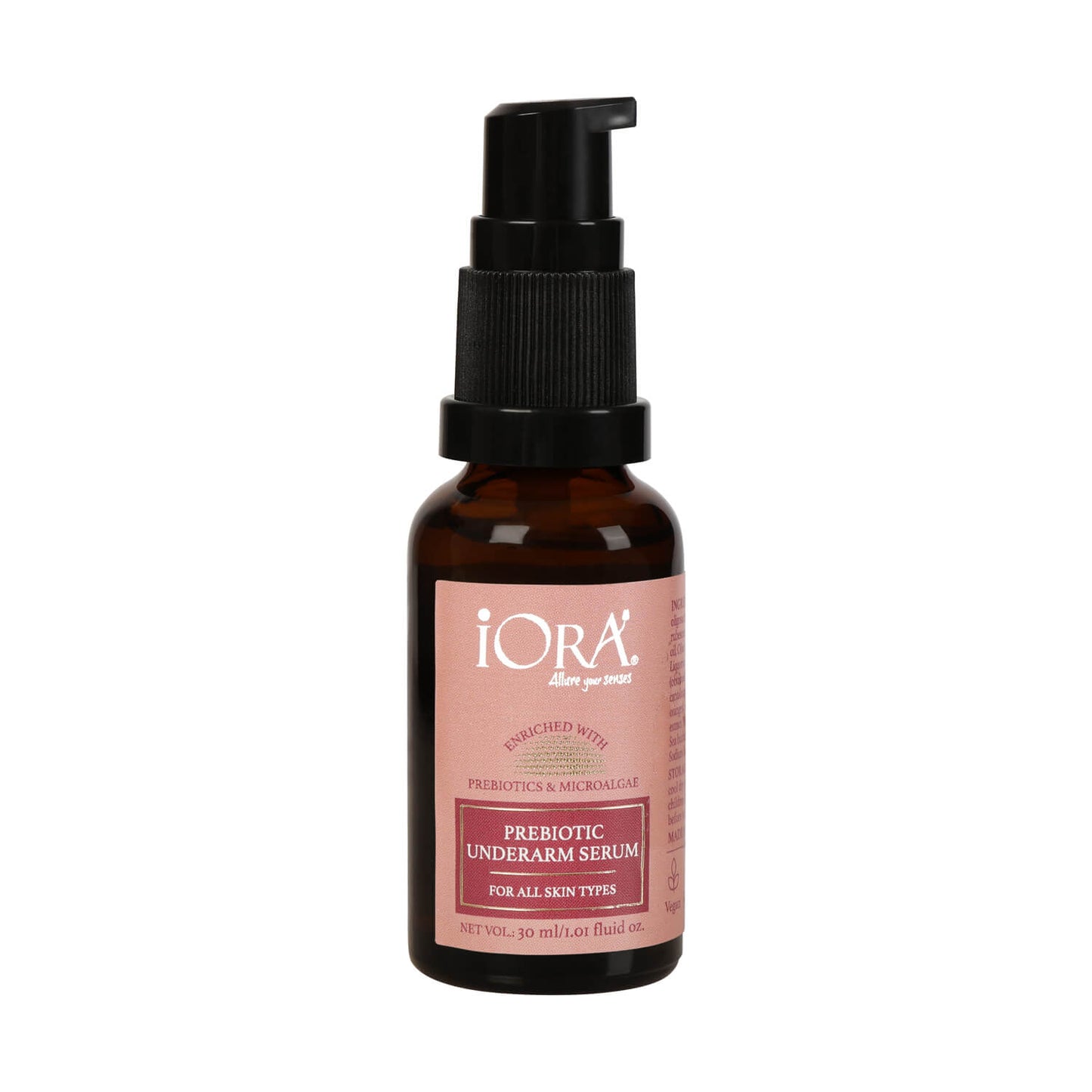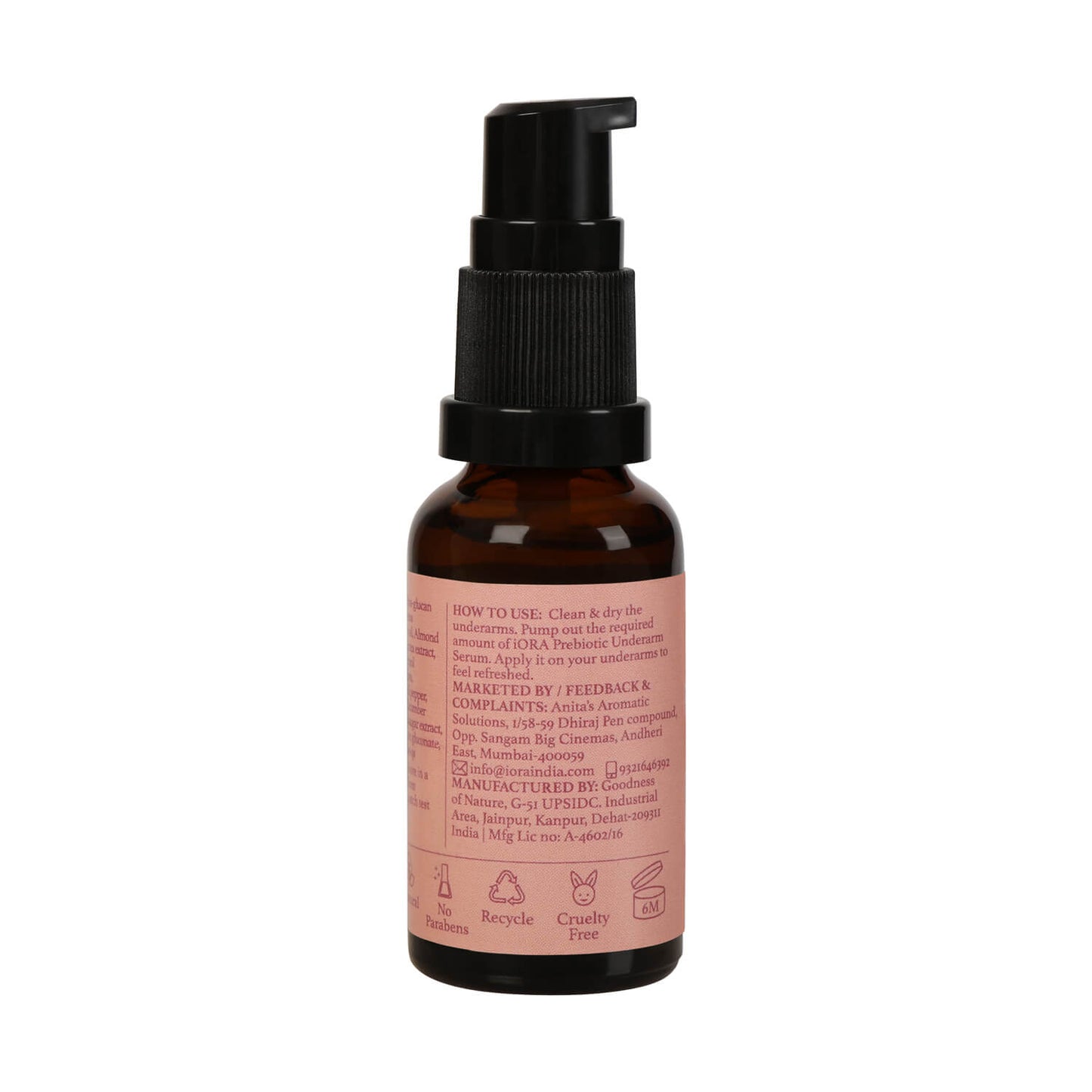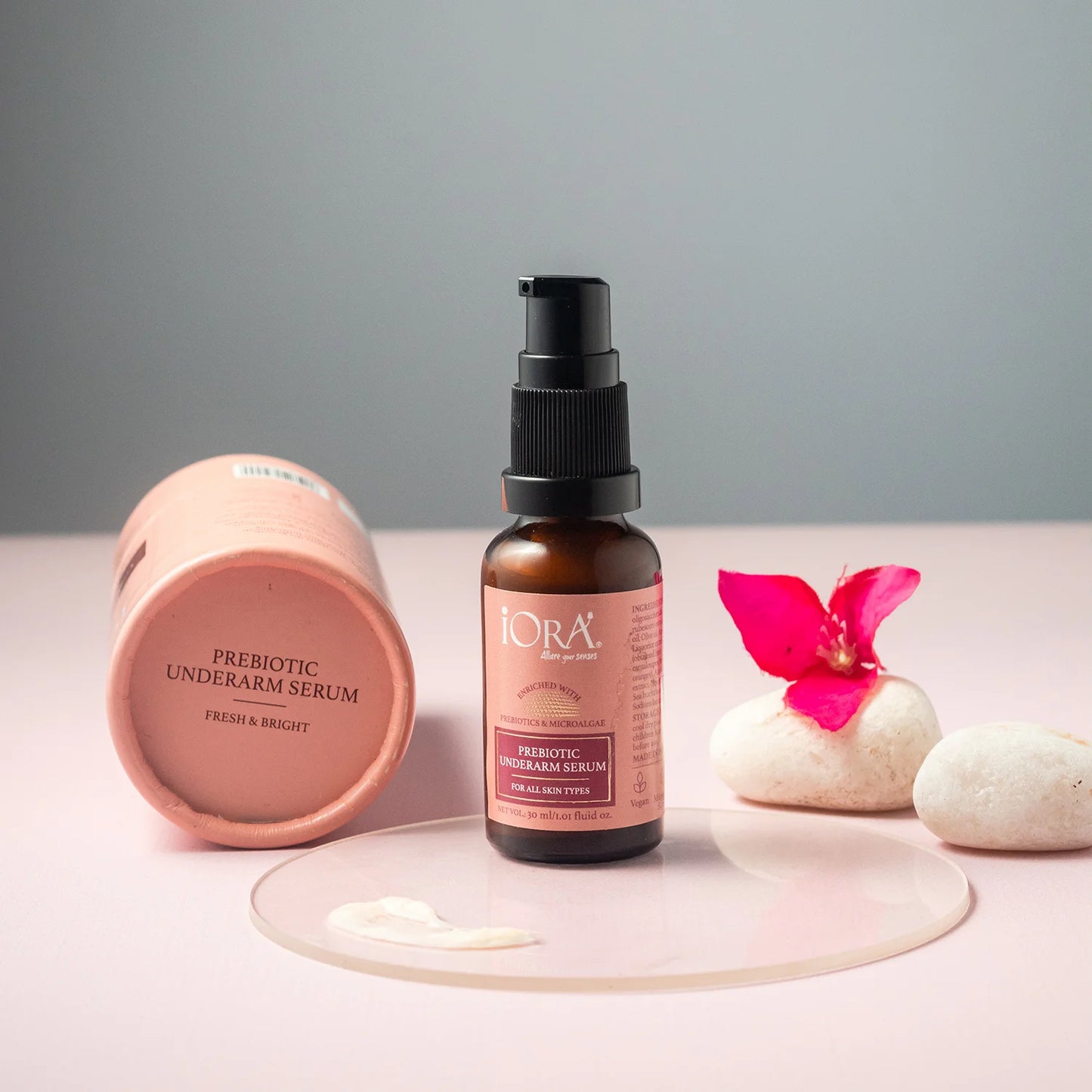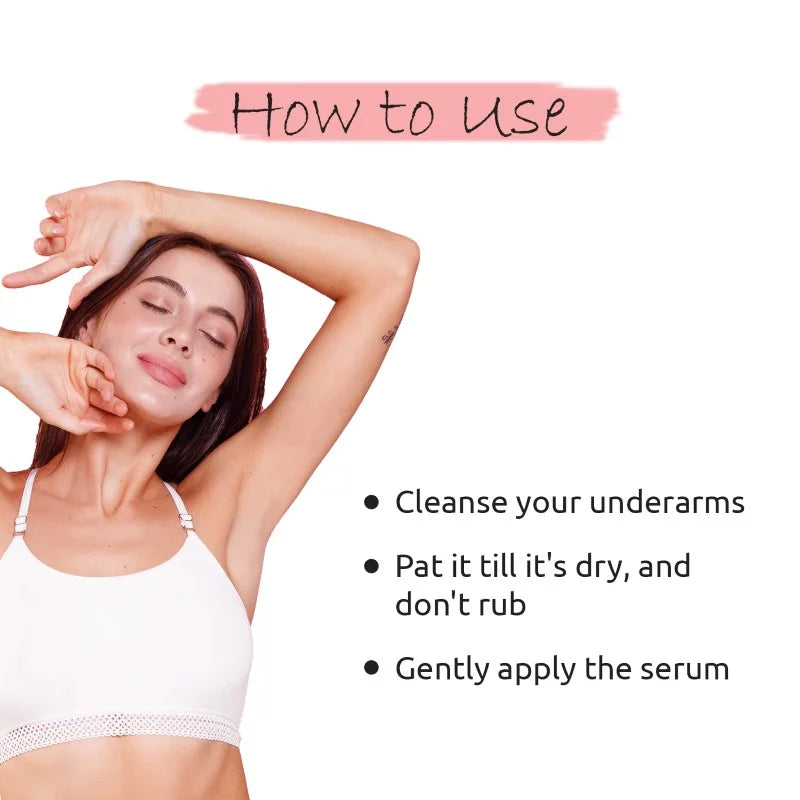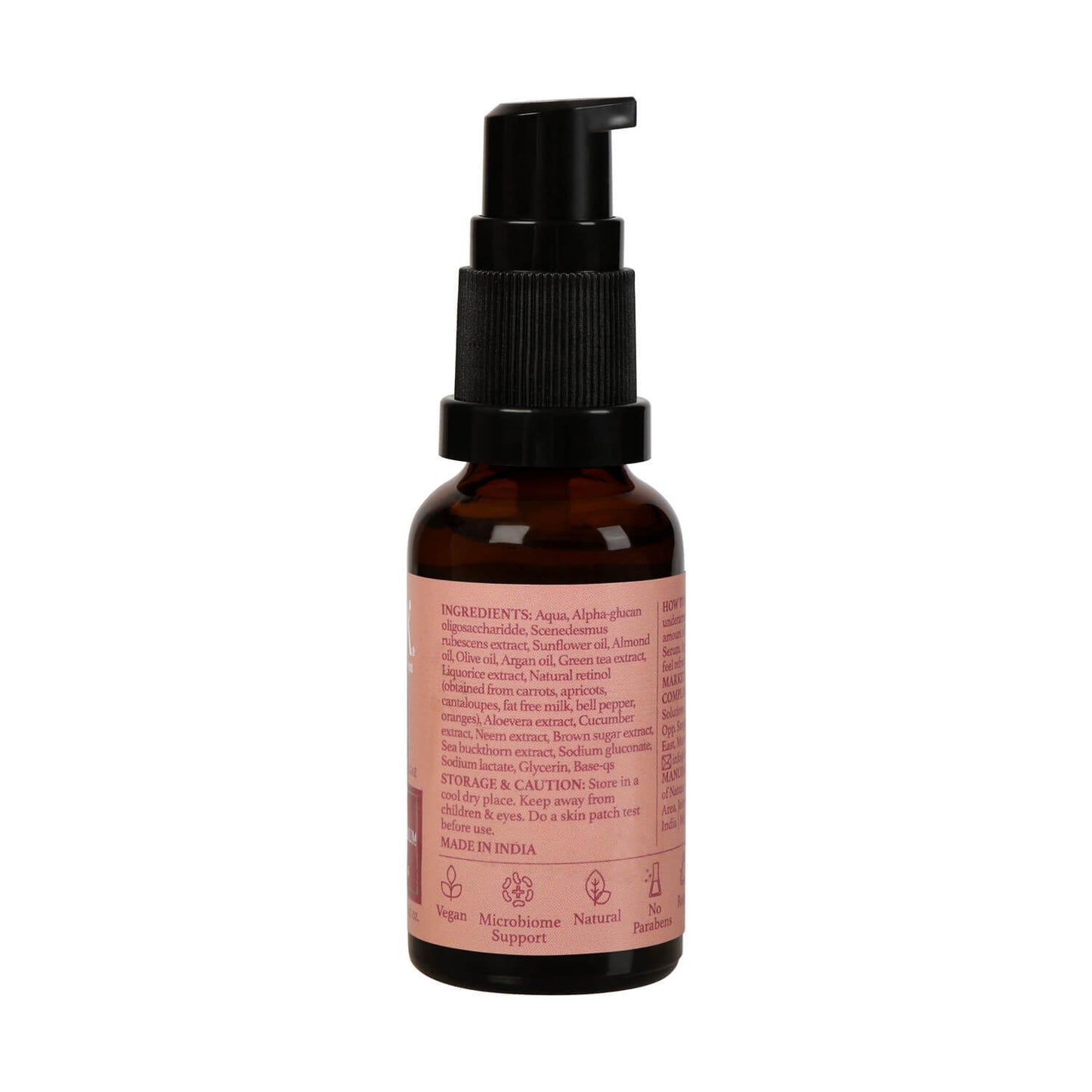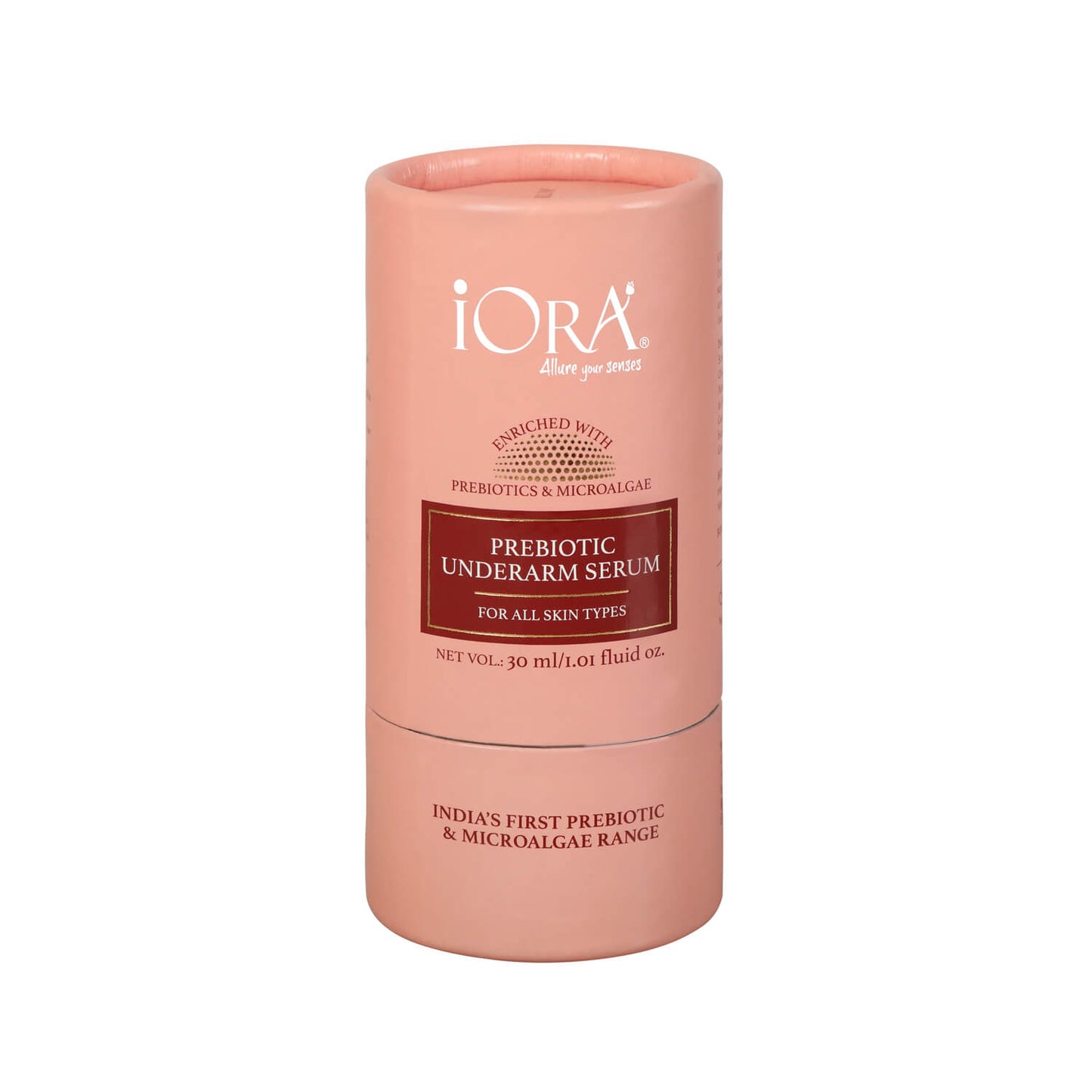 There is one thing that stops us from going completely sleeveless and wearing what we want with confidence – dark underarms.
Iora's Prebiotic Underarm Serum has been crafted to solve this problem at its very core. We have blended modern Science with the potency of nature to create an underarm serum that delivers long-lasting results.
Made with nourishing and hydrating ingredients, this vegan formula possesses the power to lighten your underarms in the most natural way by stimulating skin-friendly bacteria and restricting bad bacteria, and heal your skin in the process.
The prebiotic serum comprises unique elements such as liquorice and brown sugar that repair and sustain your skin, and restore your natural complexion that has been tainted by external agents.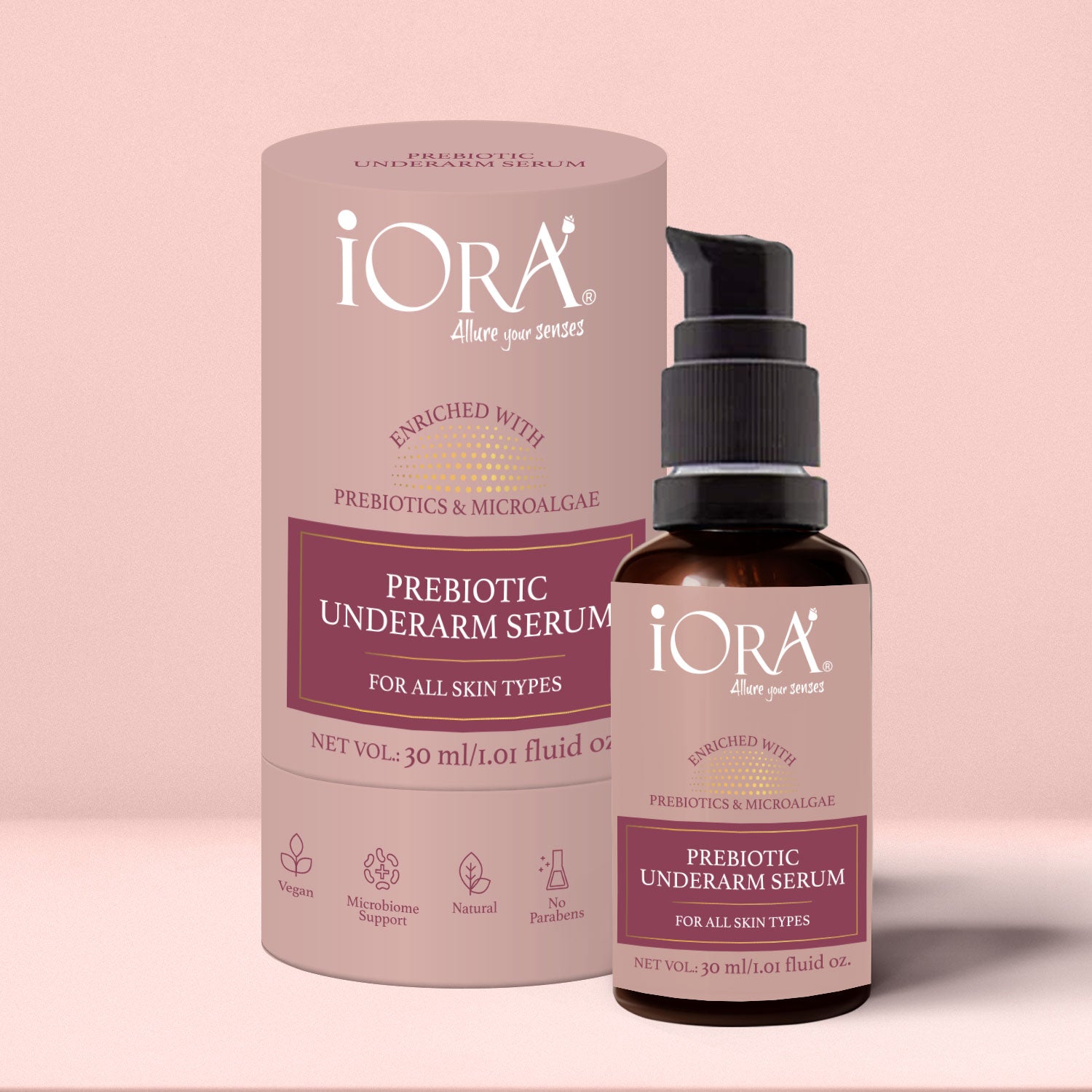 5 Key Product Benefits
Why choose iORA?
Vegan Ingredients

All Natural Products

Supports Microbiome

Paraben Free

Cruelty Free

Recyclable Packaging
Let's break it down. The skin in your underarms is sensitive and can be very easily irritated. The underarm skin is subjected to constant rubbing, chafing, and pulling. To this, your skin has an anti-inflammatory reaction which causes excess production of the melanin pigment, leading to hyperpigmentation (aka dark underarms).

Over a period of time, improper care and neglect cause discolouration, dark patches, and textured skin.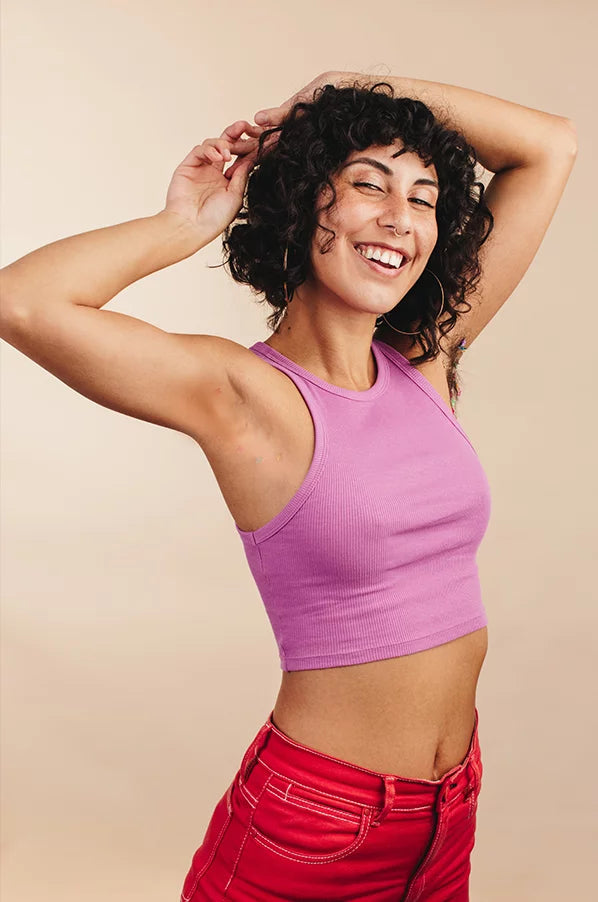 Go sleeveless with confidence!
Underarm serum engineered with key antioxidants and amino acids to moisturise and soothe underarm skin.
Ingredients and key benefit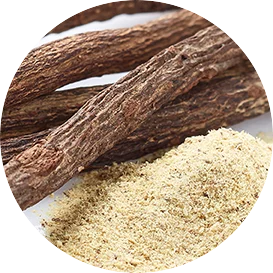 LICORICE & BROWN SUGAR EXTRACTS
Licorice regenerates collagen for younger-looking skin, while brown sugar possesses glycolic acid that controls melanin production, aiding the skin in restoring its original colour.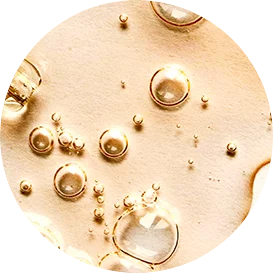 NATURAL RETINOL
Retinol is the ultimate anti-ageing powerhouse. Vitamin A nourishes and revitalizes the skin, giving it a natural, youthful glow.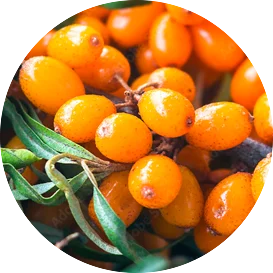 SEA BUCK THORN EXTRACT
The 'Holy Food of the Himalayas', prevents ageing and inflammation, while also reducing excess production of sebum to curb acne and breakouts.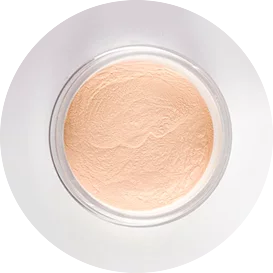 ALPHA-GLUCAN OLIGOSACCHARIDE
Acts like a protective barrier, restricting the growth of bad bacteria while encouraging good bacteria to flourish.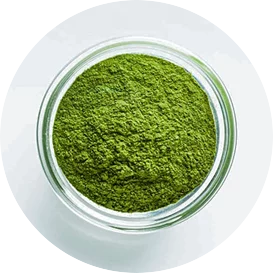 SCENEDESMUS RUBESCENS EXTRACT
Every day, we're constantly surrounded by blue light emitted from our gadgets. This ingredient blurs out all HEV light and protects the skin from the dangerous UV rays.
Manufacturer Information
EAN Code: 8906127050701
USP: 9.00 per gm
Manufactured By: Anita's aromatic solutions​
Generic name: Cream
Use before: 2 years
Marketed by: Anita's Aromatic Solutions, 1/58-59 Dhiraj Pen Compound, Opp. Sangam Big Cinemas, Andheri East, Mumbai – 400059
For Feedback/Complaints: Please write to Consumer Advisor at Anita's Aromatic Solutions, 1/58-59 Dhiraj Pen Compound, Opp. Sangam Big Cinemas, Andheri East, Mumbai – 400059
Customer Care: Phone: 8591965516 | Email: feedback@anitasaromatics.com
Country of origin: India
FAQ's
Can underarms be lightened?
They definitely can! With the right care, your armpits can be naturally brightened. There are key ingredients that can work together to make this happen. iORA's Underarm Serum contains the right mix of superfoods and prebiotic skincare to remove underarm darkness.
Can I apply serum on my armpits, and are serums good for underarms?
You can apply serum to your armpits. Ensure the serum is made of ingredients suited to your skin type and do a patch test as well. A prebiotic serum for the underarms lightens and brightens the armpits by allowing good bacteria to flourish. iORA's Underarm Serum has a powerful mix of ingredients that help with underarm brightening.
Why do underarms smell?
Armpits have apocrine glands which are responsible for producing sweat. When these droplets of sweat come in contact with bacteria on the skin, it causes the odour. The prebiotics used in iORA's Underarm Serum stimulate the growth of good bacteria, restricting the odour-causing bacteria.
What is good underarm hygiene?
Underarm hygiene includes keeping the armpits clean and moisturized at all times. If you have foul body odour, keep your armpits hairless so that the sweat evaporates quickly. Shower often, especially after sweating excessively. Wear more cotton-based clothes to prevent friction with the underarms. Also, Prebiotics! Use iORA's Underarm Serum to keep your underarm skin nourished and prevent pigmentation that makes them darker than they should be.