Regular price
Sale price
Rs. 300.00
Unit price
per
Sale
Sold out
Size: 100 ml
Share
Coconuts are native to the region around the Indian Ocean, South East Asia and Oceania, and deeply ingrained in the folklore and healing practices of the local communities. The oil has been traditionally used for cooking in the southern states of India as well as in the Malay peninsula. In Ayurveda, the coconut is called the kalpavriksha, which means "the tree that supplies all that is needed to live", and its oil is used to treat dry, flaky, sensitive skin and scalp, calm Vata and Pitta and support Kapha. Even the Pacific Islanders bowed to the wonders of the coconut, calling it the "cure all" — a sentiment shared by most of us today.
Manufacturer Information

EAN Code:

USP:

Manufactured By:

Generic name: Oil

Use before: 2 years

Marketed by: Anita's Aromatic Solutions, 1/58-59 Dhiraj Pen Compound, Opp. Sangam Big Cinemas, Andheri East, Mumbai - 400059

For Feedback/Complaints: Please write to Consumer Advisor at Anita's Aromatic Solutions, 1/58-59 Dhiraj Pen Compound, Opp. Sangam Big Cinemas, Andheri East, Mumbai - 400059

Customer Care: Phone: 8591965516 | Email: feedback@anitasaromatics.com 

Country of origin: India
View full details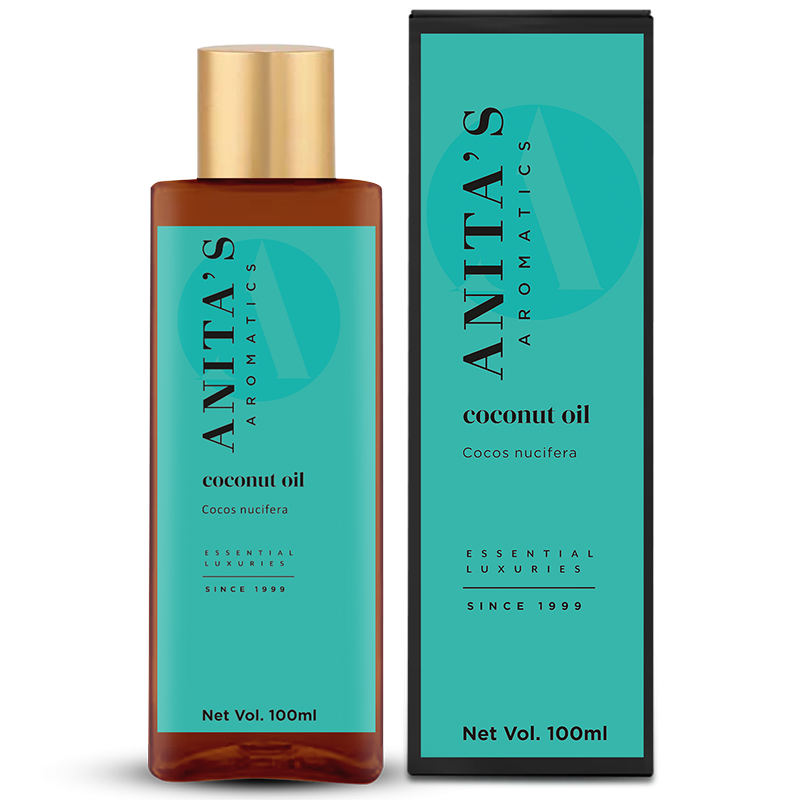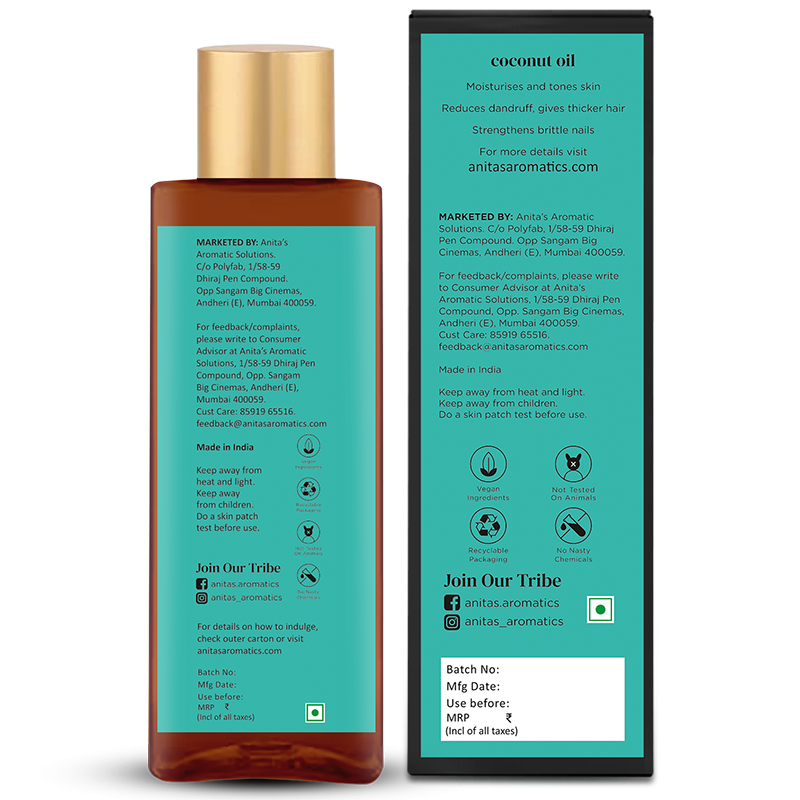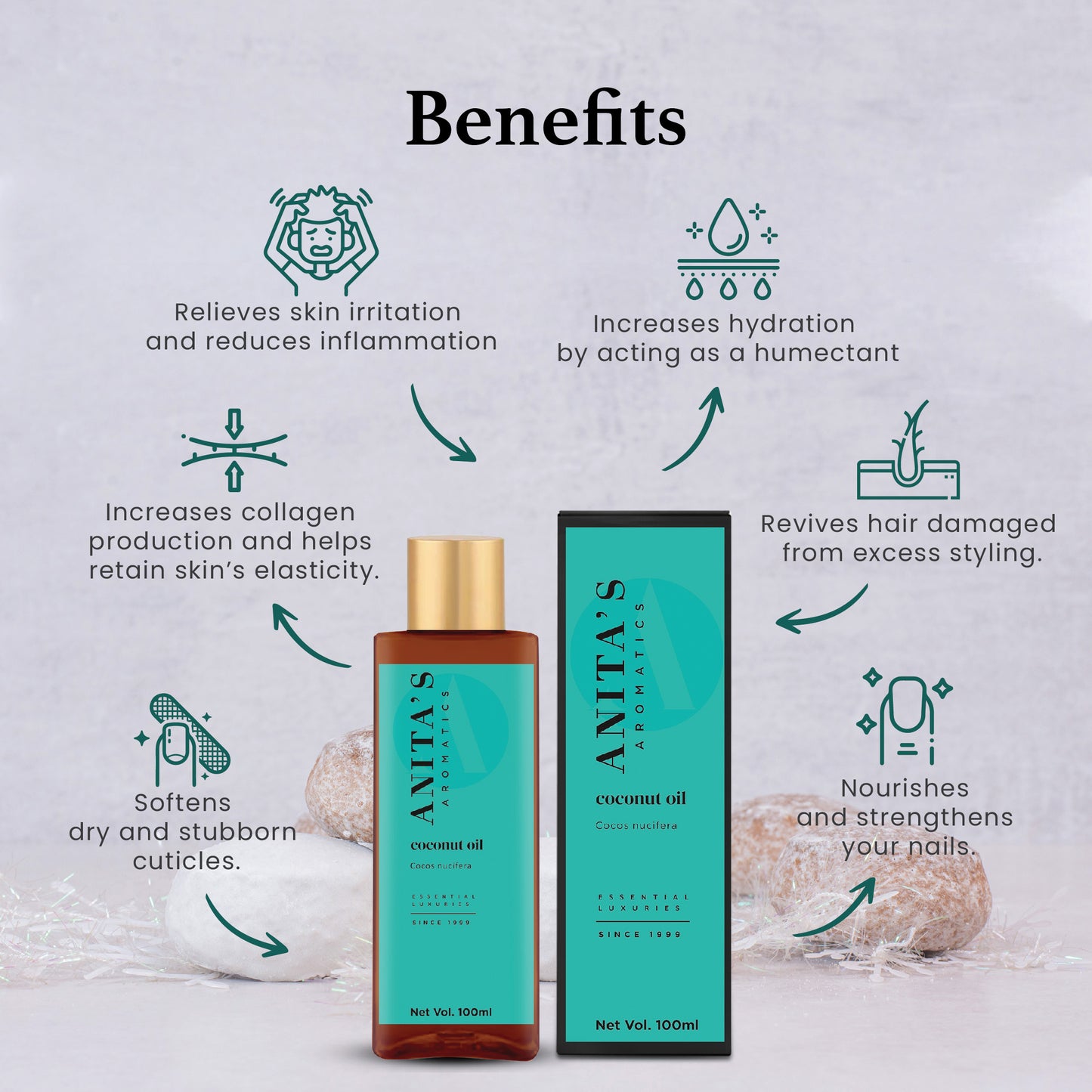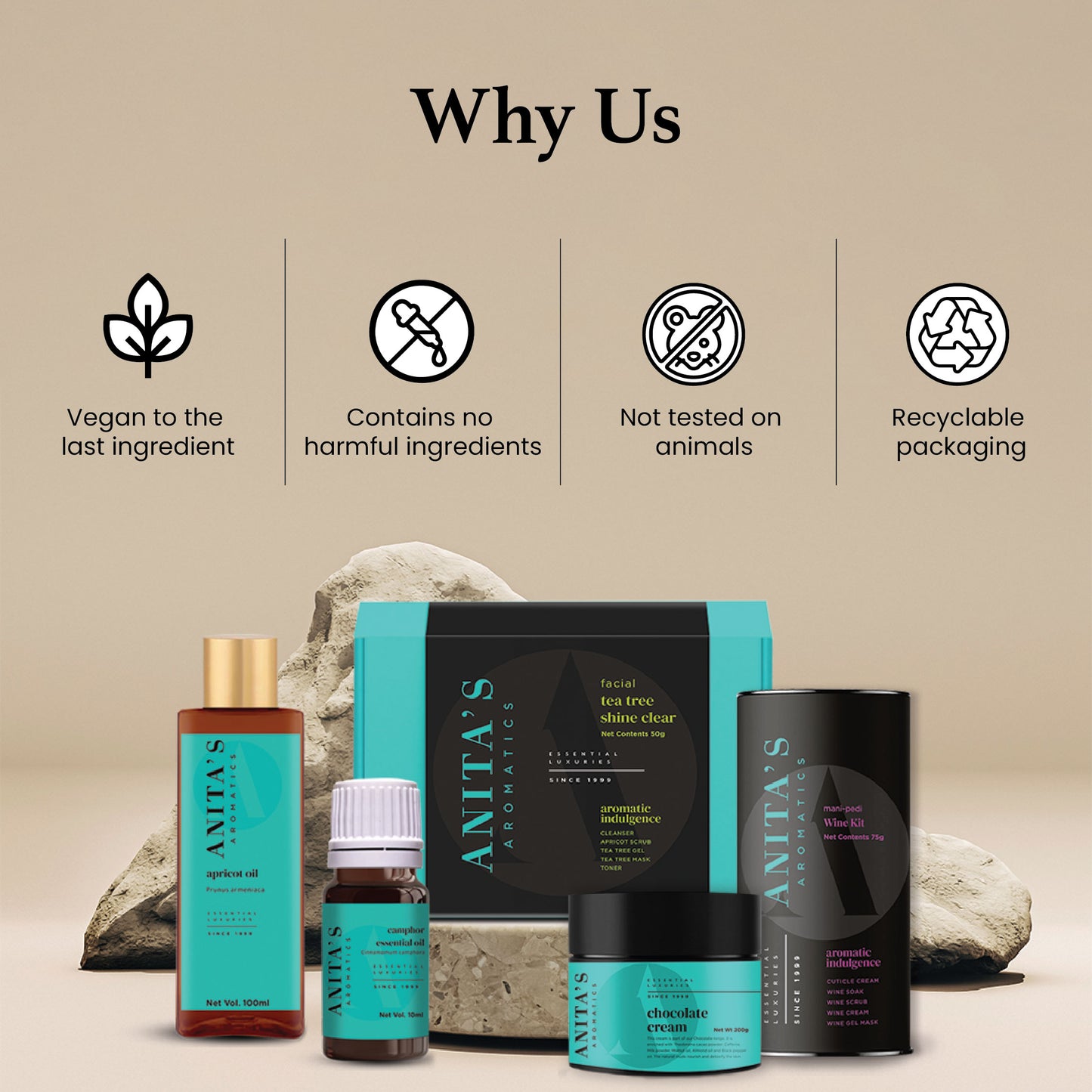 Primary benefits
• Relieves skin irritation and reduces inflammation
• Increases hydration by acting as a humectant
• Increases collagen production and helps retain skin's elasticity.
• Revives hair damaged from excess styling.
• Softens dry and stubborn cuticles.
• Nourishes and strengthens your nails.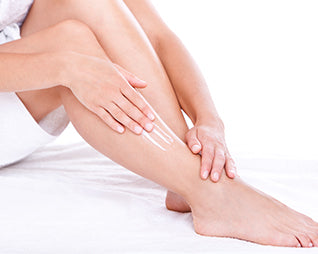 How to use
• As a daily skin and body moisturiser, apply on bare, cleansed skin
• To relieve skin redness, irritation, chaffing and sunburn, soothe the skin by applying coconut oil gently on it
• To nourish the hair, apply coconut oil to your hair one night before shampooing
• To remove stubborn makeup, use a cotton ball soaked in coconut oil to dab over eyelids, lips and the rest of the face, and gently rub in a circular motion
• For a facial massage, apply a few drops of coconut oil gently onto your cleaned face using an upward motion
• For the nails, massage gently onto the fingertips targeting cuticles and nails
• Use as a carrier oil to dilute essential oils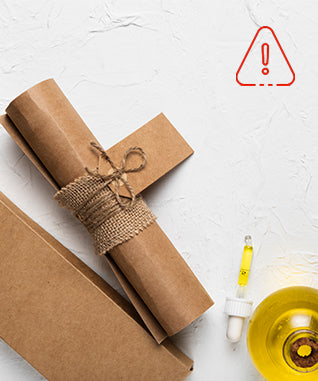 Important note on the use of oils
- Please make sure to dilute essential oils before using them anywhere.
- Keep oils out of reach from children or pets.
- Make sure to do a test patch before fully using any oil.
- Make sure that your room is well-ventilated during aromatherapy sessions.
- If you have blood pressure, blood sugar, or if you are pregnant or breastfeeding, consult your doctor before using any carrier oils or essential oils.

Our clients
We are proud to count the most reputed salons and spas in India as our loyal clients.