The holiday season is upon us, and it's the perfect time to give your salon a magical makeover that will not only enchant your clients but also boost your business. Creating a festive ambiance in your salon is about more than just hanging a few decorations. It's about immersing your clients in the holiday spirit and offering them an unforgettable experience. Always give this note to yourself as a salon owner that transforming your salon into a festive wonderland can set your salon apart from the competition. While it's true that investing in extravagant decorations and costly services can be tempting, there are numerous creative and budget-friendly ways to make your salon festive-ready without breaking the bank. From staff training to social media updates and complimentary services, let's explore the comprehensive steps to ensure your salon is a festive haven.
1. Festive Music Playlist
Set the Mood: Compile a festive playlist that includes classic festival songs. The right music can instantly transport your clients into a holiday frame of mind.
Watch for Soothing Sounds: Make sure the music isn't too loud; it should enhance the ambiance without overwhelming conversation.
2. Seasonal Scents

Aromatherapy: Introduce holiday scents through candles, essential oil diffusers, or scented sprays. Light up your senses and pamper your skin with our zesty citrus candle. Anita's Aromatics Balancing Candle is the perfect mood booster and a skin smoother! You can enjoy relaxation and rejuvenation in one delightful package!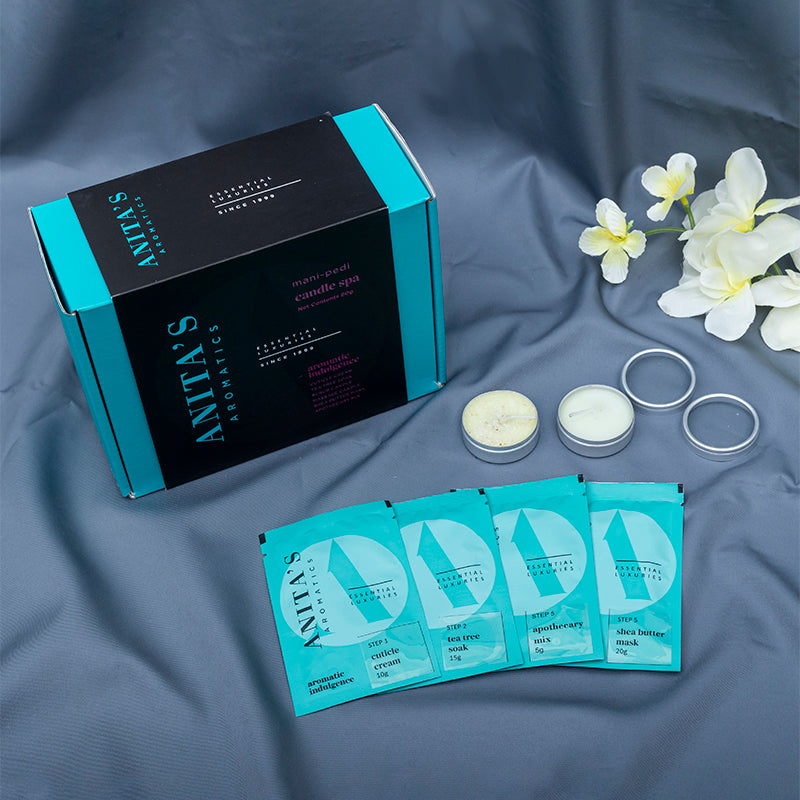 How to use: 
Just blow out the candle 

pour a dash of this liquid gold

massage your way to citrusy bliss for 8-10 minutes. 
You can also transport your clients to a jasmine-filled paradise with Anita's Aromatics Aroma Kit! It is infused with jasmine oil, known for its mood-boosting and energizing properties, as well as lemongrass to relieve stress and anxiety.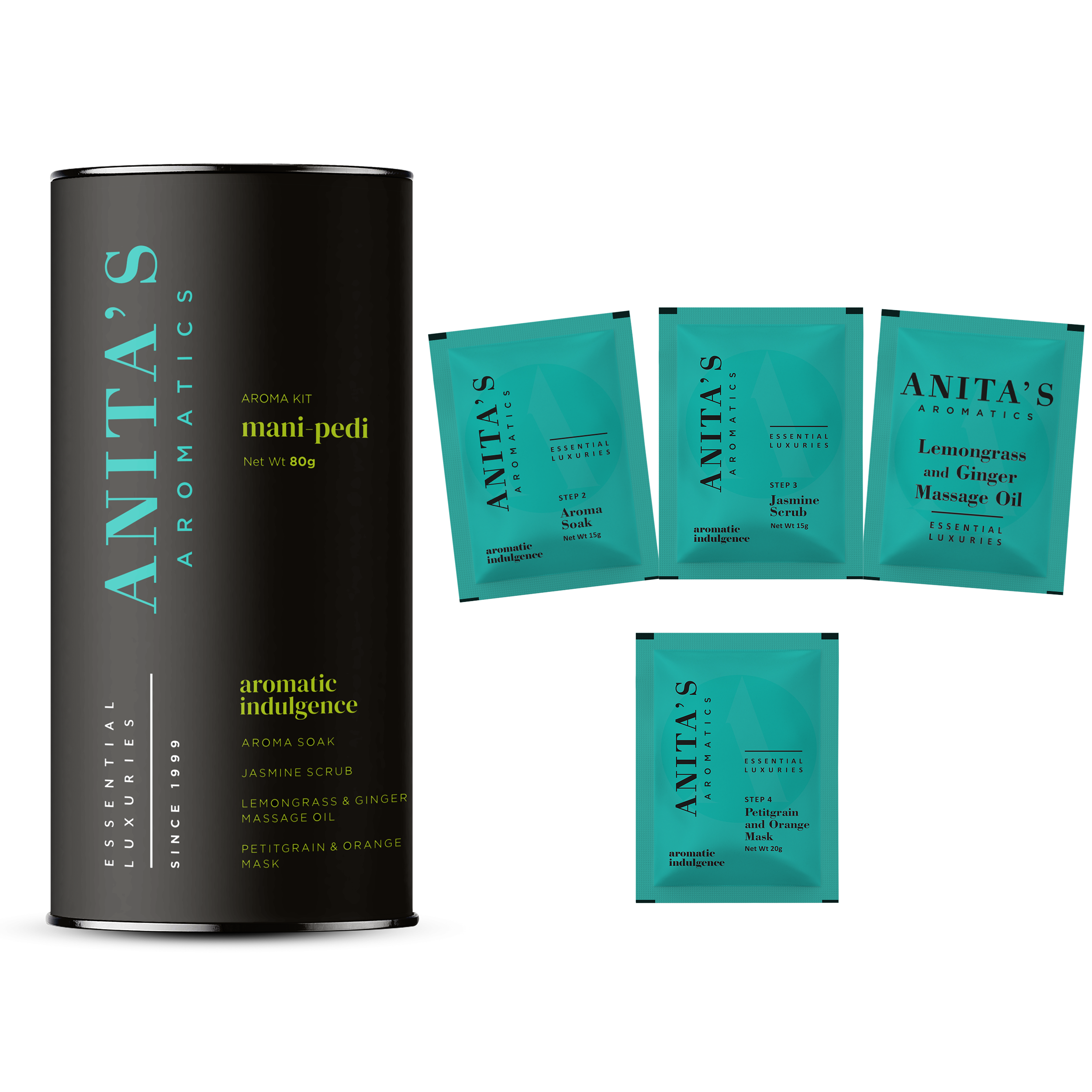 3. Complimentary Services
Festivals are a time of joy, togetherness, and celebration. A salon can embrace the spirit of the season by introducing complementary services that go above and beyond, elevating the client experience to new heights. 
The services and actions that can add value:
Welcome Treats: Greet clients with a complimentary welcome drink or a small plate of festive snacks. This gesture immediately makes them feel cherished and relaxed.

Hand and Foot Massages: Elevate your standard manicure and pedicure services with brief hand and foot massages using scented lotions or essential oils.

Scalp Massage with Hair Services: While shampooing or conditioning, offer a soothing scalp massage. Head massage not only promotes relaxation but also benefits blood circulation to the scalp, which can enhance hair growth and overall scalp health as well as add a luxurious touch to routine hair services.

Makeup Touch-Ups: After facials or makeup applications, provide a quick touch-up to ensure clients are ready for their festive events.

Nail Art Upgrade: Enhance nail services with complimentary nail art or festive designs, sparking creativity and joy in your clients.

Product Samples: Give small product samples tied to the services performed, creating an opportunity for future product sales.
What's more? Offer complimentary nail art or a glittery topcoat to clients getting manicures or pedicures. These small touches can make their holiday preparations feel special. You can also provide festive hair accessories like holiday-themed hair pins or clips for clients getting hair services.
4. Staff Attire
The choice to have your staff "dress the part" during the holidays is far from a trivial matter. It's an investment in your salon's client experience. As clients walk through your doors, they are greeted not only by the physical beauty of your salon but also by a living embodiment of the holiday spirit.
Staff in festive attire instantly communicate warmth and approachability. Clients feel welcomed into a space that values the season's magic. The anticipation builds, and the salon transforms from a mundane appointment into a holiday excursion.
5. Restock Products
Ensure you have an ample supply of holiday-themed products that resonate with the season's spirit. Consider scented candles with fragrances that evoke warmth and nostalgia, like cinnamon or pine. Festive skincare products, perhaps infused with ingredients like cranberries or ginger, can delight your clients' senses and pamper their skin. Specialty haircare items, dressed up in holiday packaging, add a touch of luxury to your salon offerings. Remember, the goal isn't just to stock products but to curate a collection that tells a story. It's about offering your clients a glimpse of the holiday spirit through your selection, giving them the gift of a mini-escape from the everyday.
Now that you've assembled your treasure trove of holiday-themed products, it's time to showcase them in a way that captivates your clients. Imagine your salon as a holiday shopping wonderland, with each product displaying a small piece of the enchantment.
Place these displays strategically near your service stations. As clients receive their treatments, they should easily spot these delightful products that perfectly complement their experiences. Consider themed arrangements that not only showcase the products but also enhance your salon's festive atmosphere. 
6. Social Media Engagement



Share the Joy as you keep your social media accounts updated with pictures of your festive salon. Use appropriate holiday hashtags to engage with potential clients and encourage your existing clients to share their experiences.

Run fun holiday-themed contests or giveaways on social media to increase client engagement and spread holiday cheer.

Use your social media channels to promote new services and packages. Share before-and-after photos, client testimonials, and behind-the-scenes content to generate excitement.
More to read : Latest social media post ideas for Salons | 2023
7. Special Packages and Promotions
Offer limited-time promotions, such as "12 Days of Beauty" with daily discounts or a "Holiday Countdown" with exclusive offers leading up to the big day.

Consider loyalty rewards for clients who purchase packages or refer friends and family during the holiday season.

Create holiday-themed gift certificates that clients can purchase as gifts for their loved ones.

Offer bundled services at a discounted rate. For instance, combine a haircut with a festive manicure and save clients time and money.
8. Express Gratitude



Thank You Cards: Consider sending personalized holiday thank you cards to your loyal clients, expressing your appreciation for their support throughout the year.

Discounts for Regulars: Reward your regular clients with exclusive holiday discounts or early access to promotions.

By implementing these ideas, you can create a festive salon makeover that delights your clients and leaves a lasting impression. The holiday season is a wonderful opportunity to show your appreciation to your clients and grow your salon business while spreading joy and cheer.
To conclude a last reminder to make your salon festive-ready - It's an imaginative journey that requires meticulous preparation, the infusion of thoughtful details, and a dedication to delivering an unforgettable experience. It's the art of surpassing the commonplace, crafting an atmosphere that deeply connects with your clients on a profound level. Good luck!